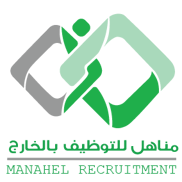 Business Development Manager
Business Development Manager is required for a logistics and transportation Company in Saudi Arabia وظائف شركة مناهل للتوظيف بالخارج أبريل 2023
الوظائف بالخارج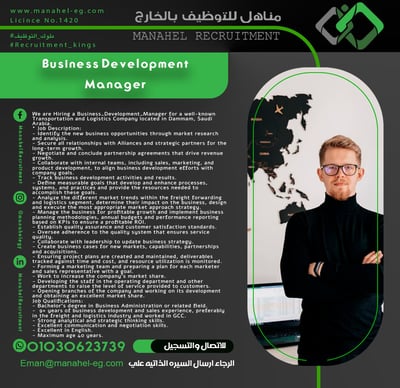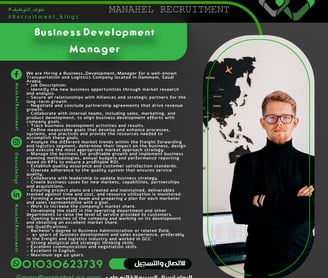 We are Hiring a #Business_Development_Manager for a well-known Transportation and Logistics Company located in Dammam, Saudi Arabia.
* Job Description:
- Identify the new business opportunities through market research and analysis.
- Secure all relationships with Alliances and strategic partners for the long-term growth.
- Negotiate and conclude partnership agreements that drive revenue growth.
- Collaborate with internal teams, including sales, marketing, and product development, to align business development efforts with company goals.
- Track business development activities and results.
- Define measurable goals that develop and enhance processes, systems, and practices and provide the resources needed to accomplish these goals.
- Analyze the different market trends within the freight forwarding and logistics segment, determine their impact on the business, design and execute the most appropriate market approach strategy.
- Manage the business for profitable growth and implement business planning methodologies, annual budgets and performance reporting based on KPIs to ensure a profitable ROI.
- Establish quality assurance and customer satisfaction standards.
- Oversee adherence to the quality system that ensures service quality.
- Collaborate with leadership to update business strategy.
- Create business cases for new markets, capabilities, partnerships and acquisitions.
- Ensuring project plans are created and maintained, deliverables tracked against time and cost, and resource utilization is monitored.
- Forming a marketing team and preparing a plan for each marketer and sales representative with a goal.
- Work to increase the company's market share.
- Developing the staff in the operating department and other departments to raise the level of service provided to customers.
- Opening branches of the company and working on its development and obtaining an excellent market share.
Job Qualifications:
- Bachelor's degree in Business Administration or related field.
- 9+ years of business development and sales experience, preferably in the freight and logistics industry and worked in GCC.
- Strong analytical and strategic thinking skills.
- Excellent communication and negotiation skills.
- Excellent in English.
- Maximum age 40 years.
* For applying please send your updated CV to:
OR send Whatsapp:
* Mention (Business Development Manager) in the Subject.
شركة مناهل لالحاق العمالة المصرية بالخارج ترخيص 1420 ق.ع
Manahel Recruitment (license No.1420)
LinkedIn: https://lnkd.in/dVHzeghR
Facebook: Manahel Recruitment - مناهل للتوظيف | Facebook
Instagram: instagram.com/manahelegy/
https://manahel-eg.com/ar/jobs
#توظيف #recruitment #تأشيرة #عاجل #سفر #Recruitment_kings #Engineer
#Recruitment_Kings #مطلوب #شركه #recruitment_kings #ملوك_التوظيف
#Sales #negotiation #transportation #logistics #ksajobs
وظائف شركة مناهل للتوظيف بالخارج أبريل 2023